ProcurementExpress.com is a cloud-based purchase order management software that helps your business take the hassle out of company purchasing with magical automation features.
Our software provides a centralized platform for employees to make purchase requests, send them through customizable approval flows, and receive automatic notifications to keep everyone informed. This helps your team to make informed purchasing decisions and reduces the risk of errors, without any of the hassle.
ProcurementExpress.com provides a range of magical features that help your company manage its spending more effectively.
Finance teams can set up budgets and monitor spending against those budgets in real time.
Requesters and approvers are linked to specific budgets and departments, limiting their access to only the data that concerns them. This helps to prevent overspending and unauthorized purchases.
ProcurementExpress.com also allows your company to maintain a database of approved suppliers, with information such as contracts, contact details, products, pricing, and performance ratings. This helps to ensure that purchases are made from reliable and cost-effective suppliers, which can contribute to cost savings in the long term.
ProcurementExpress.com provides finance teams with a better understanding of company spending patterns and helps identify areas where costs can be reduced. The software provides detailed spreadsheet reports, making it easy to monitor expenses and identify trends. This enables finance teams to make informed decisions and optimize the company's purchasing strategy to reduce costs and improve efficiency.
Simply put, ProcurementExpress.com is a must-have software solution that can help your company more efficiently manage the process of acquiring goods and services from suppliers.
How could my company benefit from using ProcurementExpress.com?
There are multiple benefits to using ProcurementExpress.com for your company:
Streamlined purchase order management: ProcurementExpress.com optimizes many of the manual tasks associated with purchasing, such as creating Purchase Requests, tracking vendor performance, and invoice matching. This can help reduce errors and save time.
Improved efficiency: By automating repetitive tasks, ProcurementExpress.com can help your business work more efficiently and get more done in less time.
Better visibility and control: The software provides a centralized system for tracking spend which can give your business greater visibility into its procurement processes and help you make more informed decisions.
Cost savings: Streamlined purchasing processes can help your business save money by reducing errors, improving efficiency, and allowing you to better negotiate with vendors.
Better control over budgets: Budget caps and user association give your company better control over your budgets and avoid overspending.
Reports: Various detailed reports make it easier to monitor expenses, spot anomalies and identify trends.
Trusted supplier database: Maintain a database of approved suppliers and their details, to help ensure that company purchases are made from reliable and cost-effective suppliers.
Integration: ProcurementExpress.com integrates with various other accounting software, which helps to avoid having to do double entries and saves your accounting team valuable time. We also integrate with 100s of other different software providers through Zapier.
Overall, using our software can help your business optimize its purchasing processes, increase efficiency, and most importantly, save you time and money.
ProcurementExpress.com Visualized
This illustration visualizes your company setup within ProcurementExpress.com.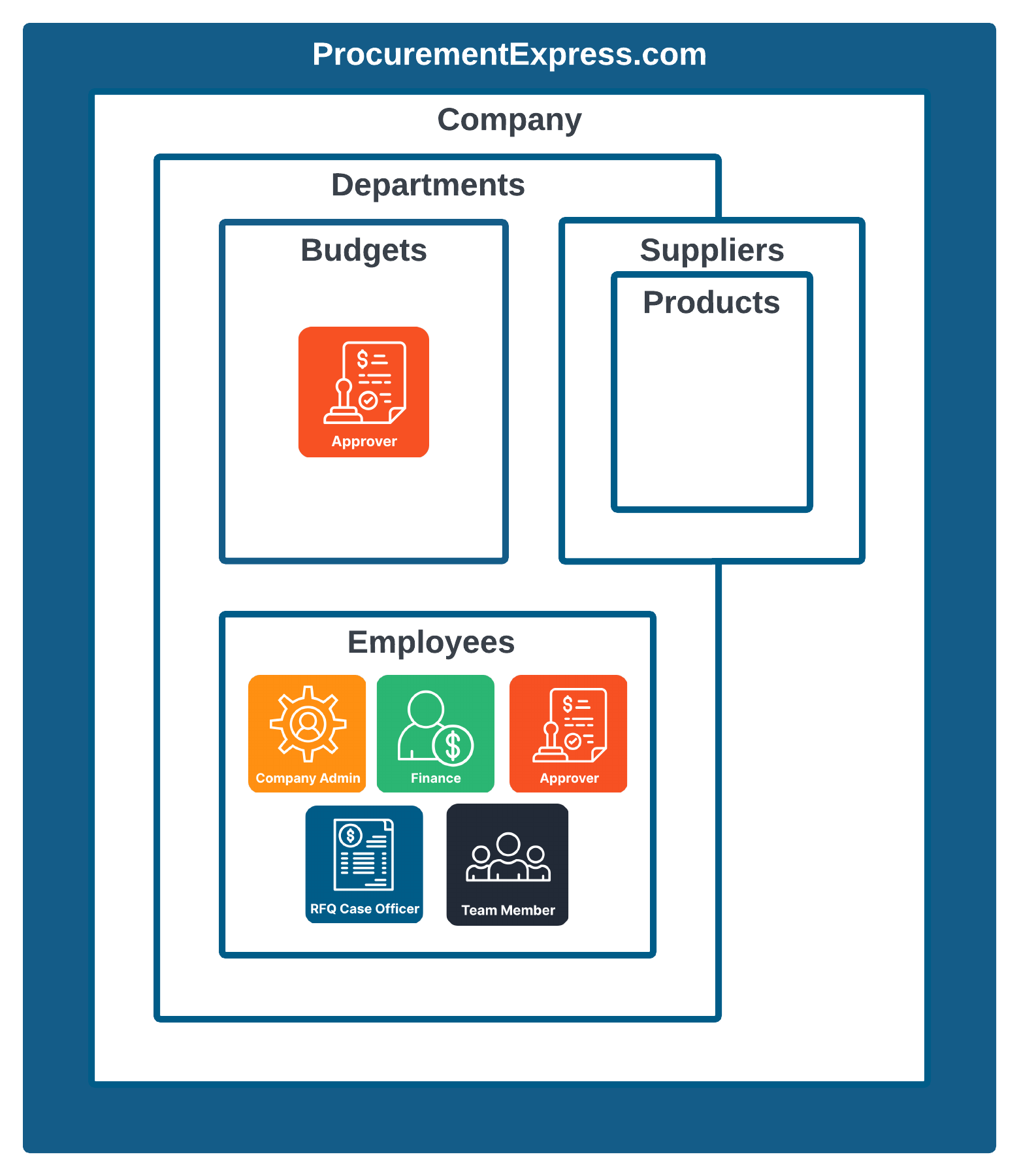 ---
Still have a few questions? Use the Live Chat Icon in the bottom right-hand corner or send an email to support@procurementexpress.com to get in touch with the friendly support team.
If you have a feature suggestion, we'd love to hear from you! Add your feature suggestion on feedback.procurementexpress.com and upvote others you like.