This feature is exclusive to our Web App in chrome browsers. Get the PushCart Chrome Extension for your online purchases! (Also referred to as "Punch Out" / "Punchout")
Download and Install the chrome extension
Click Here to go to the extension in the Chrome Web Store
Click on "Add to chrome"

Set up pushcart with your ProcurementExpress.com account
Click on the ProcurementExpress.com Pushcart browser extension.
On the page that opens you should see: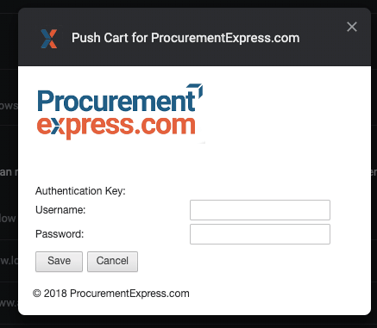 Add your ProcurementExpress.com Login details in the dialog box
Click on save
That's all there is to it.
Using Pushcart
Visit your favorite online store like Amazon.com.
Continue by adding the items to your cart as per usual.
When you're done shopping, open PushCart by clicking on the ProcurementExpress.com extension.
Complete the PO form as usual, by selecting your company, department, budget, etc.

Once the form is fully completed, press "Create PO". As long as the cart is supported, a new draft PO will be created and ProcurementExpress.com will open with your new PO already filled out.
A draft PO will be created with all your items, (This means you can review the PO created afterward and fill in any other additional information you might need)
Simply send off the PO for approval, and you are good to go!
Note: All Purchase orders created using PushCart has an extra option named "Buy Now", that takes you directly to the shopping cart of the site that the PO was created from.
Going Back to the cart:
All Purchase orders made via pushcart will have an extra button available, named "Buy Now" that will take you back to the cart already filled out with the items you wanted to buy.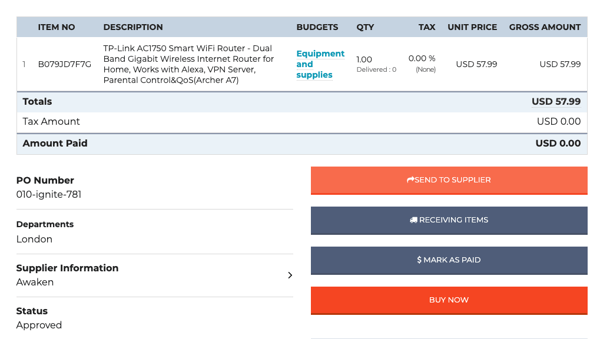 Still have a few questions? Use the Live Chat icon in the bottom right corner or alternatively send an email to support@procurementexpress.com to get in touch with one of our Support Representatives. Have a feature suggestion? We'd love to hear from you! Add your feature suggestion on feedback.procurementexpress.com.