Users who have the flexible product listing setting activated can import line items from a .csv file for super fast request creation.
Make sure that you have the "flexible product listing" setting active. Your CompanyAdmin or our friendly support team can help you with that.
1. Click on "New Purchase Request".

2. Select your supplier
3. Above the line items table, you'll see a link to "Import Line Items". Click the link.

4. The "Import Line Items" modal will appear. Click on the "Sample Import Template" link and open that in a spreadsheet.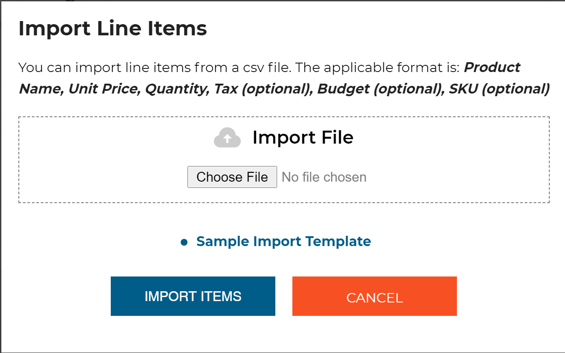 5. Use the template to fill in all the line item data that you want to import. When your sheet is complete, download or save as a .csv file.
6. Drag the completed file into the "Choose File" box on the "Import Line Items" modal OR click on "Choose File" and then click on the Import Items button.
All the data will populate in our purchase request as line items.
Please note: If you import line items for a second time on the same request, the new data will be added to the same request. To start from scratch, click on "New Purchase Request" again.