Created a purchase order but afterward realized that your colleague already made one? Now is the perfect time to probably try and cancel that purchase order, am I right?
Note: You can cancel a purchase order as long as it is not marked as paid, In that case, you can use the "Mark as Unpaid" option, followed by "Mark as Cancelled"
To cancel a Purchase Order, follow these steps:
On the purchase order listing page select the purchase order you would like to cancel
Scroll down to the "Other Actions" located at the bottom right
Click on "Mark as Cancelled"
Click "Yes" on the confirmation dialog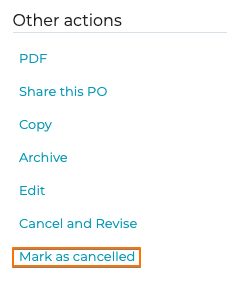 Canceling multiple Purchase Orders at a time
On the purchase order listing page, select the purchase orders you want to cancel by clicking in the checkbox on the

When you have selected all the purchase order, click on "Cancel" In the top right corner,
Still have questions? Use the Live Chat icon in the bottom right corner or alternatively send an email to support@procurementexpress.com to get in touch with one of our Support Representatives. Have a feature suggestion? We'd love to hear from you! Add your feature suggestion on feedback.procurementexpress.com.