Do you have any additional files you would like to upload to a Purchase Order?
When creating a new purchase order, use the Drag&Drop field to attach files. For existing POs, you can edit it to attach a file, such as an invoice or receipt, or to print it.
Note: This is for internal Company purposes only
Attaching a File to your Purchase Order
Go to the Purchase Orders dashboard
Select the Purchase Order
Under "Leave a comment", you can:

Add a comment in the text box
Click "Choose File" to upload a file from your device
Drag & drop a file onto the "Choose File" button



Click on "Comment/Attach"
Downloading the PO PDF
Under Other actions, click PDF and the PDF will start downloading
Open the PDF and print it
Uploading Invoices
If you have invoices to upload, you can make use of our internal invoice upload feature.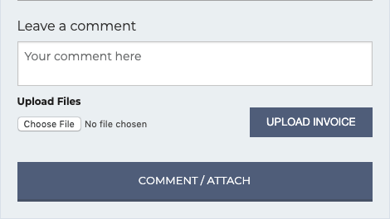 Open the Purchase order you would like to add the invoice to
In the comments section, at the bottom, click on "Upload Invoice"
Drag an invoice onto the dialog box that opens (Alternatively, click on "Browse File")
In the Invoice amount block, add the amount as indicated on the invoice.

Click on Done,
You can now accept/reject the invoice

Still have a few questions? Use the Live Chat icon in the bottom right corner or alternatively send an email to support@procurementexpress.com to get in touch with one of our Support Representatives. Have a feature suggestion? We'd love to hear from you! Add your feature suggestion on feedback.procurementexpress.com.